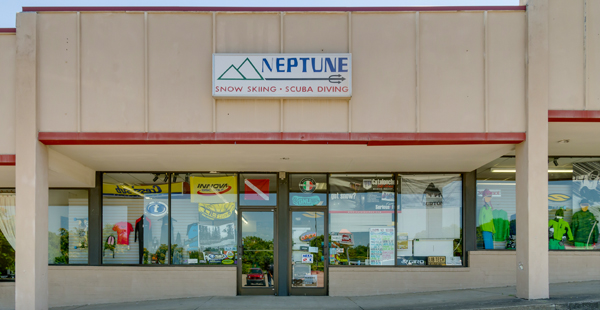 NEPTUNE SCUBA DIVING AND SNOW SKIING
5827 Charlotte Pike
Nashville, TN 37209
615-356-5051
615-356-5558 alt.
info@neptuneshop.com


SHOP HOURS
Open Monday • Saturday
9:30am-6:00pm,
Special Holiday Hours
OPEN SUNDAYS 1:00 - 5:00PM UNTIL CHRISTMAS
Christmas Eve 9:30-2:00pm
Closed Christmas
NYE 9:30 - 2
Closed New Year's Day
Closed Memorial Day
Closed July 4th

DIRECTIONS
From I-40 West Take exit 204 (White Bridge Rd), turn left onto White Bridge Road. Go to the 2nd stoplight and make a right onto Charlotte Pike. Drive .3 miles on Charlotte, turn left at the "Extra Space Storage" sign and we are up in the shopping center on the left.

MEET THE NEPTUNE FAMILY
Local and family owned since 1973, Neptune is Tennessee's oldest Scuba Diving Shop and Middle Tennessee's only Professional Snow Ski and Snowboard shop. Our shop stocks a huge selection of equipment to rent or buy from great brands like TUSA, CRESSI, TILOS, BURTON, SPYDER, MARMOT, THE NORTH FACE, SALOMON, ROSSIGNOL, LIB TECH and so much more. Our experienced SCUBA and ski instructors offer lessons and certification for all ages and abilities designed to make these sports safe and fun. A full service repair and rental shop is available for those who need quality service done before their trip. We also offer world class tours to the ocean or the mountains so you can explore the world with Neptune.
DENNIS - OWNER
Dennis and his wife, Kris, own Neptune, Steep & Deep & the worldwide dive agency MDEA. Dennis
started diving in 1956 at the eager age of 12, beginning his love for the sport. He went on to obtain his BS in Biology and MS in Fisheries Biology. In 1970 he tried his hand at snow skiing and found a winter hobby to compliment his love for scuba diving. In 1973 Dennis became a dive instructor and founded the Neptune Equipment Company. He added skiing to the mix in 1976 and Neptune became a full-time occupation for Dennis. Since then, he has worked not only to build his business, but to continue to grow scuba diving, skiing and snowboarding in middle Tennessee and the surrounding region. Dennis has personally certified over 3,500 divers and is committed to serving skiers and divers in Tennessee, Alabama and the surrounding areas.
SHANE - MANAGER
Shane is the jack of all trades here at Neptune. He has been SCUBA diving for 28 years and is our diving instructor. Although he enjoys SCUBA, his passion is shredding some gnarly pow on both skis and boards. With Dennis as his father, Shane grew up in the shop and his expertise on all things SCUBA and ski continue to thrive. Outside of the shop, Shane can be found rock climbing, busting out dance moves at concerts, chilling in his hammock or canoeing with his K9 comrad, Knox. With his adventurous and outgoing personality, Shane leads our local ski trips every winter as well as weekend trips to rock quarries in the summer. He has a vast knowledge of both sports and the products used in them. From boot fits to boards and skis, from dive techniques to fins and masks, Shane is your go to guy.
Peter - SNOWBOARDER/ SKI TECH
WALLY - DIVE MASTER/ SCUBA TECH
Wally is the scuba guru here at Neptune. He has been diving since 2015 and jumped through our
leadership program and became a divemaster in 2017. Although Wally is not at the shop everyday, you can find him helping with just about every dive class Neptune puts on. His fun spirit and passion for "blowing bubbles" makes him a great dive leader and a super gear technition. He has the skills and expertise to service just about anything that goes underwater. If Wally isn't underwater, you can find him playing racketball at the gym or hunting in the forrest.