Get started on your SCUBA certification while practicing social distancing.
Use Zoom with your scuba Instructor to create and classroom in your living room.
Get started now, and finish up when we have warmer water and a healthier planet. We have Zoom classes starting April. Just $150 to start your underwater experience with Neptune, Tennessee's oldest dive shop.
One of our passions here at Neptune is the beautiful sport of SCUBA diving. Not only do we carry all the gear you'll need to dive in any location, we also teach scuba lessons to all ages and abilities. Becoming a certified scuba diver is an unforgettable experience and is an opportunity to explore some of the most unique environments on this earth. Our SCUBA instructors here at Neptune, take a hands-on approach to insure educational and fun SCUBA classes.
Learn to Dive From the Best
Neptune has been teaching SCUBA diving since 1973, longer than any other dive school in Tennessee. We take a professional approach to our dive classes rather than conducting them like a "boot camp." You will learn to dive safely while having a great time. Our patient instructors teach at each student's pace and we are confident that you will be pleased with your experience. If any student is unhappy with their course, we will insist on a full refund.
Who Can Scuba Dive?
Almost anyone in good health, who is comfortable in the water can learn to SCUBA dive, providing they are five years or older*. Some of our most enthusiastic divers are well into their golden years. There are certain medical or physical conditions that would not be compatible with safe diving. If someone is interested in diving and has a condition that is questionable, a medical examination by a doctor may be required.

*We have a safe, age appropriate youth program.
Click Here to See Our Scuba Class Schedule

SIGN UP ONLINE
SCUBA during COVID-19
Its easy to start taking dive classes with Neptune. If you're new to diving, we have always started with academics before water training. Upon signing up, we will give you a call and send you your paperwork and book. With Zoom, a video conferencing service, we can have your academics completed before you even put on fins. Of course, we will need to finish up your training in a swimming pool and a local rock quarry during warmer and safer times. With uncertainty of when those times will be, we're offering this video service for $150. The Pool and Open Water Checkout dives will be an additional $250 when it's available, completing your certification.

Specialty courses will also be available during this time. Advanced (Level 2), Solo, Nitrox, Rescue and Cavern lectures will begin in April and completed when we can get back in the water. The video service will be $100 and includes your study materials. The pool and checkout dives are an additional $50-$100 depending on the course, completing your certification.

For more information for the upcoming dive season and how we're dealing with COVID-19, Call or email Shane
615-356-5051
info@neptuneshop.com

Become a Certified Scuba Diver
Open Water Level One




(Beginners Class)
The MDEA Level One course is designed to teach the basics of safely SCUBA diving. Our program is the oldest dive school in Tennessee and we pride ourselves in teaching a fun & thorough experience with our patient & exciting instructors. SCUBA class is held on the weekends & is split between 3 parts: Academic, Pool & Open Water Checkout Dives.
Academic Instruction
MDEA has the industry's highest standards for education & service. During your academic instruction, you will be taught the basics of underwater physics and physiology as well as an understanding of various underwater environments. We pride ourselves in teaching a hands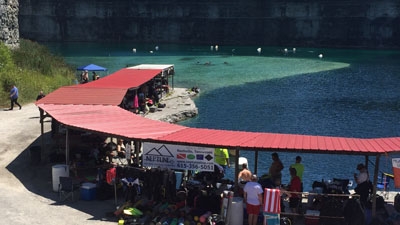 on classroom with your instructor. Our program is comprised of 3 classroom sessions. You will be issued the MDEA offical textbook to use for studing. There is a 75 question, multiple choice exam to complete once the academic sessions are through.

Confined Water (Pool) Instruction
After each academic lesson we will proceed to the pool to learn skills required to safely dive. The pool we use is a 15 foot custom built outdoor pool for SCUBA diving. We have an emphasis on your experience, so if you need any extra time developing your skills underwater, our patient instructors are glad to take the time so that you're comfortable. All the gear you need is provided except a mask, fins, snorkel and swimsuit. Neptune uses only state of the art equipment & it is available to our students at 10% off.
Open Water Checkout Dives
After you have mastered all skills necessary in the pool, you are required to complete 4 open water checkout dives. These first few dives are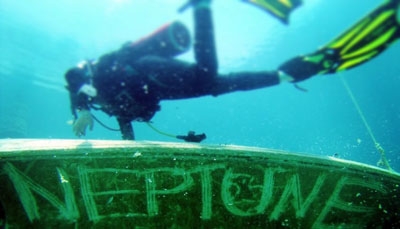 done in just one weekend at a rock quarry typically. We typically take our students to Hokinsville, Kentucky where we dive Penny Royal Dive Resort. However, we do have access to a few private quarries closer to our shop for some afternoon dives. We even have some classes that prefer to complete the checkout dives on one of our trips to Florida or the Caribbean.

Open Water Level Two
(Advanced Class)
Already have your open water certification? What's next? Our advanced dive class is design to expand your skills & knowledge beyond the Level One Class. In just one weekend you will be introduced to 6 different specialty dives.
The class is mostly focused on 5 open water dives & a brief classroom session. The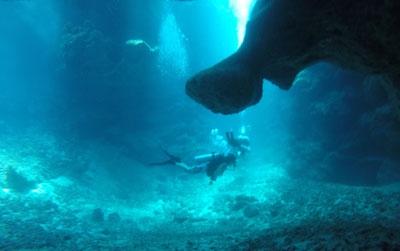 class includes procedures & skills for deep diving, underwater navigation, night diving, wreck diving, search & recovery and current diving. Once completed, you will be issued an exam that you have a year to complete. The class is a MDEA issued Advanced Open Water certification (Level 2). The cost is just $199 & only takes 2 days. All the necessary equipment is provided except for flashlight, mask, fins, snorkel and a swimsuit. *dive site fees not included. (usally $25/day)

This class is usally run as a camping trip at Penny Royal Dive Resort in Kentucky. For several years now, the awesome staff at Penny Royal have let us camp out and dive over the weekend. Shane, one of our instructors, has the class set up to start on Saturday afternoons around 4:00PM. The class will start with Wreck Diving and Underwater Navagation. Once the sun starts setting, a grill out and picnic starts while we wait for it to get dark. The night dive, most peoples favorite of the weekend, is a great way to end the day before sleeping in our tents. If a hotel is more your style, there are several within a mile from the quarry. The next morning, Shane cooks breakfast for everyone and prepares the group for a morning deep dive. Our last dive is Search and Recovery and is over by 12:00PM on Sunday.
Specialty Courses
(Expert)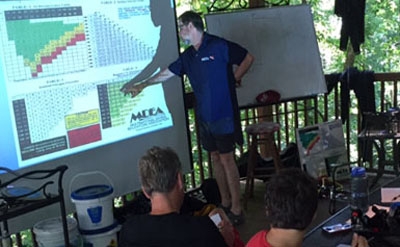 Want more even more experience? Neptune offers a number of specialty courses aimed to make you an expert on specific dive environments and procedures. Some of the exciting specialties we offer are: Deep Diving, Nitrox, Underwater Navigation, Night/Limited visibility diving, Wreck diving, Rescue Diver, Search and Recovery, Current Diving, Dry Suit, Spear fishing and many more.
Specialty Certifications are $199 and come with necessary gear, classroom if necessary, & open water checkout dives with a specialty instructor.
Leadership Certifications
(Dive Master & Instructor)
If diving is as much as a passion for you as it is for us, you may want to enroll in our Dive Master program. Once you're certified you can run diving tours and help instructors with students. Quaified students will be enrolled into a leadership course designed to teach how to lead and conduct groups of divers safely. Requirements are: A minimum of 18 years of age (note: there is an assistant dive master with a minimum age of 14) Level 3 diver or another agencey's equivalent, Rescue Diver certification, Minimum 25 logged (non training) dives. The course is has a mixture of watermanship training, academics, dive site training with students and the 4 required MDEA Dive master exams. The class cost $300 and has no sceduled dates. Most canadates complete their certification in a summer.
Considering making diving a career? Instructor training offered as well as multiple other professional training rolls. Our Instructor evaluation is done by Dennis Salisbury. An aplication can be filled out at our store and a meeting with Dennis will follow. Quified canadates can enroll in the program for $999 and takes approximatly 45 hours to complete.
Certification Agency
We offer certification through the Multinational Diving Educators Association (MDEA). MDEA has the industry's highest standards for

education and service.

Multinational Diving Educators Association (MDEA) was organized in 1984 by a group of dive professionals. Head-quartered in Marathon, Florida, MDEA grew rapidly through leadership training programs and from interested members of other agencies who participated in crossover seminars. High standards were not compromised and new ideas were developed as MDEA became recognized worldwide.

Since its inception in 1984, MDEA has a network of dive resorts world wide that offer special discount packages to all MDEA certified divers. We also have a well-organized procedure for advanced and specialty classes that is unique.MDEA and all other nationally recognized SCUBA certification agencies in the U.S. must be accepted equally as defined by the Federal Trade Commission. This means you will have no issues with using your cerfication card wherever you dive around the world. If fact, presenting a MDEA issued cerfication at a resort can be considered a gold standard.
Youth Diver Programs
MDEA has unique, safe, age appropriate courses designed for the whole family.
Sea Otter: Surface SCUBA with positively buoyant back pack (diver cannot descend underwater) Minimum age 5 Years old.
Level One Youth Diver: Confined water only, maximum depth 4ft. Must be under the direct supervision of a dive professional when on Scuba. Minimum age 8 years old.
Level Two Youth Diver: Confined water only with certified diving parent, guardian or dive professional. Can dive in open water under optimal conditions to a maximum depth of 30ft. Can only dive Open Water with dive professional's direct supervision. Minimum age 10 years old.
Level One Junior Diver: Same as adult Level One Diver. Maximum depth is 40ft. Must dive with a certified diving adult. Minimum age is 12 years old.
Junior Level Two (advanced) Diver: Similar to adult Level Two (advanced) Maximum depth is 40ft. No extreme or technical dives. Minimum age is 12 years old.
Junior Level 3, 4 and 5: Same is adult Levels 3, 4 and 5. Exceptions be some specialties. Minimum age is 12 years old.
Assistant Dive Master: Can assist Dive Masters, Assistant Instructors and Instructors with diving activities. Minimum age is 14.

How Much does Scuba Class cost?
Neptune's pricing is very competitive. We offer dive classes at the most reasonable prices possible. We also tell our customers up front all the costs involved. You will not have financial surprises with us. The Beginner scuba class includes the following: Classroom Training, Pool Training, Four Open Water Dives, Certification Fee, Logbook, Student Kit, Use of all necessary equipment such as tanks, regulator, B.C, wetsuit, etc. The only thing the course doesn't include is the entrance fee to the rock quarries and your mask, fins and snorkel. We offer 10% off equipment at Neptune for our students as well. This exciting experience is a full SCUBA certification and is now just $399. Call today and discover a world below the surface. Already have your open water certification? What's next? Our advanced dive class is design to expand your skills & knowledge beyond the Level One Class. In just one weekend you will be introduced to 6 different specialty dives. The class is mostly focused on 5 open water dives & a brief classroom session. The class includes procedures & skills for deep diving, underwater navigation, night diving, wreck diving, search & recovery and current diving. The class is just $199 & only takes 2 days. All the necessary equipment is provided except for mask, fins, snorkel and a swimsuit.
Open Water Dives Checkout Dives
Tennessee has many lakes, rivers, and rock quarries that have good visibility diving. The four required open-water dives that are part of the SCUBA course can be made locally on day outings. We mostly use a rock quarry in Hopkinsville, Kentucky called Penny Royal. Weekend dive trips are organized for those who prefer a getaway weekend to complete the training. Some complete their training on one of our trips to the Bahamas, Florida Keys or the Caribbean.
Dive Equipment
Neptune provides all the necessary diving equipment for the pool sessions and open water dives except for mask, fins, and snorkel. We keep a large selection of these items in stock discounted for students. Once you are certified, you will want to purchase your own SCUBA equipment. We are the largest diving retailer in Middle Tennessee, and we are able to put together packages at very reasonable prices. If you want to dive now and buy later, we have rental equipment on hand for your use until you select you own gear.